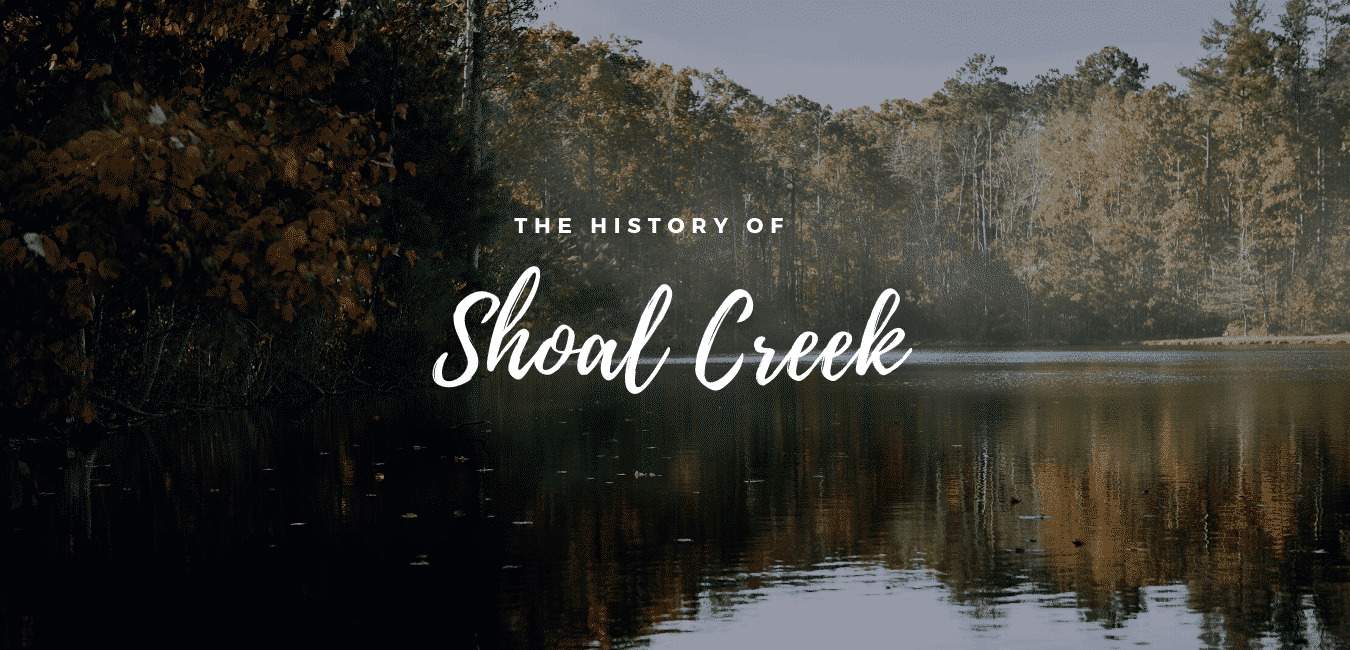 From Past to Present: The Nature & Community of Shoal Creek

Today, Shoal Creek is a beautiful luxury community located in the foothills of the Appalachian Mountains. The community of Shoal Creek encompasses an 18-hole golf course and a sea of custom homes in a serene, wooded, mountainous setting. But years ago, the area was inhabited by a different sort of neighbor. One man had the vision to protect the beauty of the grounds at Shoal Creek. His vision was to preserve the nature while allowing residents to feel the call of its early peaceful beginnings.
Shoal Creek Community in the Early Years

In 1975, Hall Thompson acquired the 1,550 acres of what was to become Shoal Creek from Hugh Daniel via a handshake deal. But before it was Shoal Creek Properties, the land among the Dunnavant Valley was steeped in mystery and historical relevance.
Early Native Americans lived and hunted near the banks of the namesake creek. Shoal Creek runs the length of the over 1,500 acres.

While the official establishment of Shoal Creek occurred in 1977, it's believed that Shoal Creek held residents long before that date. As early Native Americans thrived near the banks of the creek, our community encompasses land that was once inhabited by the Creek Indian Nation. Past and present, this area's focal point is a brook of our very namesake: Shoal Creek. 
Shoal Creek flows through the Dunnavant Valley that encompasses our community. Eventually, the creek becomes both Smyer Lake and Lake Wehappa, a 240-acre lake northeast of Shoal Creek. 
A crucial part of the history of Shoal Creek is the Thompson family legacy. Tradition says, owner Hall Thompson dreamed of what this land would become. He spent so much time discussing the idea that his wife, Lucy, told him to "stop talking about it and start digging." Shortly after, Hall Thompson enlisted a young Jack Nicklaus to deliver on his vision for a timeless classic, and thus began the work on the Shoal Creek we see today. Because of Hall's dedication to chasing his dream, Shoal Creek's golf course and luxury community continues the traditions set by the original neighbors. 
Now, ownership of Shoal Creek Properties has been passed down through multiple generations of the Thompson family. Currently, under third-generation leadership, the Thompson family has intentionally passed down priceless value to the residents of Shoal Creek. In regards to both dedication to nature appreciation and family values, legacy enriches the community of Shoal Creek.
Building on the Heritage of Shoal Creek


Our community's name gives tribute to our roots of simplicity, purity, and nature. From our history until the present day, Shoal Creek values center around respecting this beautiful, wooded property here surrounding the creek. 
When original architect Jack first toured at the property, Shoal Creek was untouched for many decades. He remarked that you couldn't move three feet without running into a tree. Presently, Shoal Creek still resembles a natural, untouched haven. Our properties sit on large lots of acreage full of trees, lakes, and beautiful views. Each resident's home is a pleasant, private retreat. 
With 1,000 densely forested acres including 400 acres of an undisturbed ridgeline, the unspoiled beauty of Shoal Creek has attracted people to reside here for decades. Being connected with nature and holding a strong sense of community is what living at Shoal Creek has to offer its residents. 
Hosting a combination of architectural styles, you can find anything from traditional, large estate homes to European-style cottages filling Shoal Creek. Cottage communities such as Troon Hamlet create natural neighborhoods where residents can find a welcoming sense of community. 
A beautiful aspect of Shoal Creek is the feeling that the community is untouched by time. As soon as you drive into the gates, a sense of peace, tranquility, and comfort seems to overcome you. A reprieve from the hustle and bustle of city life, Shoal Creek offers nature trails, lakes for canoeing and fishing, a world-class golf club, and even a beautiful equestrian getaway. With modern-day luxuries in a timeless setting, Shoal Creek indeed maintains its reputation as a comfortable home in the wilderness. 
Continue the Legacy

Shoal Creek Properties offers rest, luxury, and endless possibilities to its residents. For those interested in preserving and appreciating a beautiful oasis at the foothills of the Appalachians, Shoal Creek is the home for you. Located only a few miles away from the heart of Birmingham, Shoal Creek provides an idyllic oasis that is perfect for you and your family. Continue the legacy of nature appreciation and family values with us here at Shoal Creek.


SHOAL CREEK – GET AWAY, EVERY DAY
Shoal Creek is a premier, idyllic community set around an equally premier golf course, host of the U.S. Women's Open Championship in 2018. Our vibrant and diverse community of residents enjoy a peaceful, secure setting in nature with all the modern luxuries we have to offer. Come explore Shoal Creek. It's full of possibilities. 205-991-4653 or contact us here.