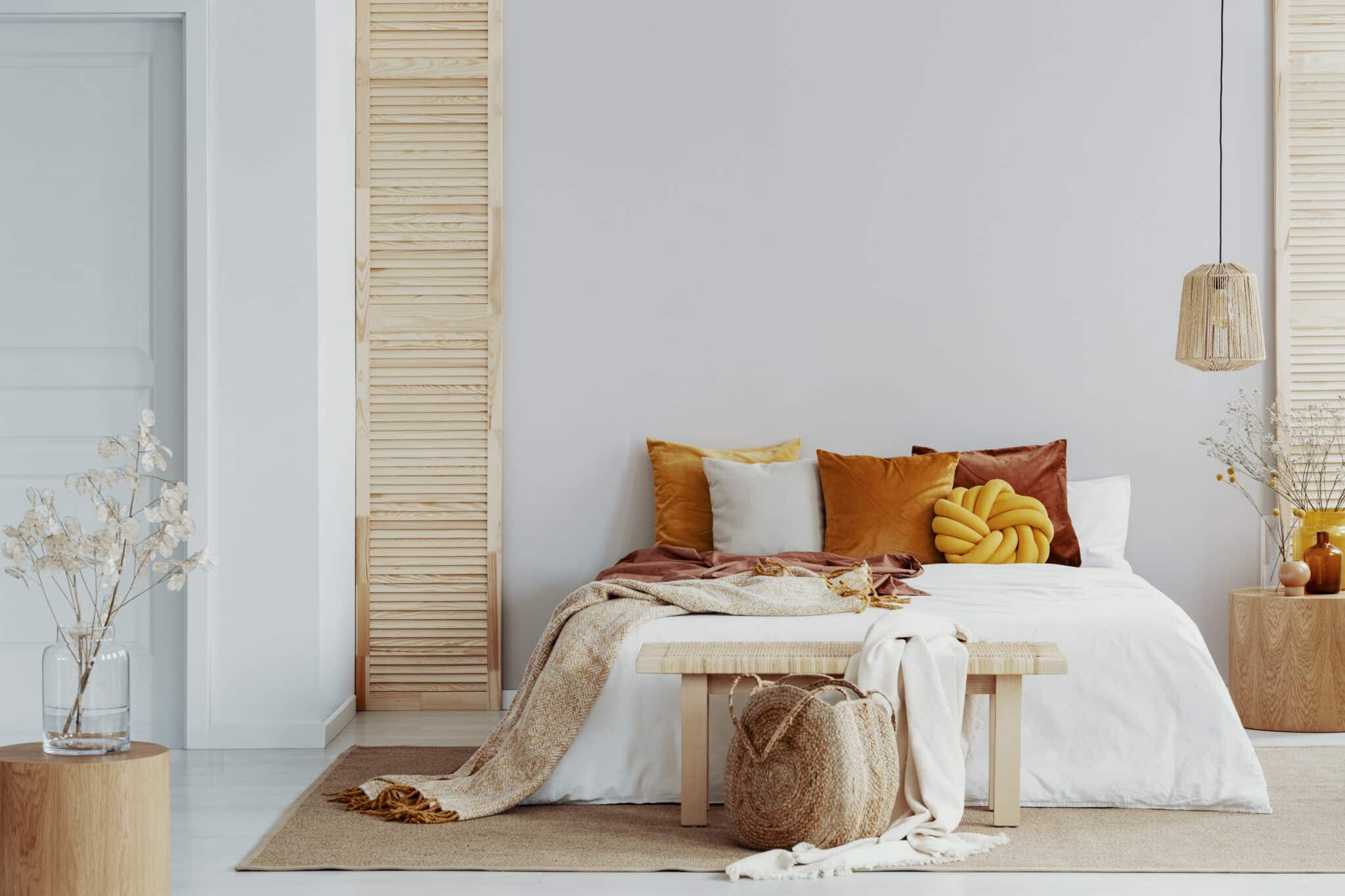 Top Interior Design Trends for Fall 2021

Our kids are back in school, and the home is slowly returning to its pre-pandemic role as a sanctuary. Now, many of us are looking for ways to change up our living spaces with the changing seasons. As temperatures cool and we can once again enjoy the beautiful outdoors, top interior designers are taking inspiration from the world around us and bringing it indoors—creating exciting new trends that embrace natural beauty. As you look for custom home décor inspiration, start here with our guide to the top luxury interior design trends for fall 2021.

This year is all about returning to our roots: out with sterile minimalism and in with reclaimed, natural elements. Think bold, expressive accents punctuating the warm serenity of each room like a breath of fresh air.
Warm, Earthy Neutrals
While we enjoyed the stark contrast of the black and white trend for a while, we think this movement has run its course. This autumn, brown is the new black. The more natural, earthy tones you can incorporate the better. Terracottas, sandstones, and taupes can create gentle warmth, perfect for ensconcing yourself in the soft light of an autumn morning. 
Accentuate with pops of amber and basil, or even muted florals—another fashionable look for fall.
Ultra-Soft Fabrics & Natural Textures
Cozy-chic is the name of the game with fabrics this fall. We love that velvet is making a comeback with pillows and sofas. The rich, plush nature of velvet makes curling up next to the fire a special kind of decadence, and because of its natural warmth, you can feel free to experiment with cooler colors. Play with layers and patterns, and luxuriate in accessories like chunky merino wool knits and bouclé poufs. 
The natural texture trend also applies to furnishings. Opt for raw, natural finishes on wood chairs and tables for a reclaimed, rather than lacquered, look. Rough-hewn and brushed planks add a rustic touch ideal for setting the autumn ambience.
Retrofusion
Retrofusion isn't just about nostalgia, though a touch of reverence for the past never hurts! Top interior designers are taking the best styles of each decade and making them work together in ultra-creative expressions. Mid-century modern partitions and serving counters provide stylish, customizable room divisions. And carefully curated rich colors, like the mustard golds of the 70s, add flair and comfort. 
Customizing your own vision is key. Try bringing in local artisan crafts, DIY projects from your last year of pandemic hobbyism, and other eclectic, personalized touches to keep things interesting.
Cottagecore & Cabincore Kitchens
Goodbye sterile, white kitchens! Modern farmhouse may never go completely out of style, but it could use a little fixing up as "cottagecore" and "cabincore" take over. Incorporating a mix of traditional and rustic styles, these new aesthetic modes add a certain opulent depth, movement, and warmth to the overly stark, shiplap kitchens we've seen in the past. 
Don't shy away from dark palettes and burnished brass or copper fixtures. If possible, incorporate local materials to bring in natural warmth and texture. Raw wood, rough stone, clay, and handmade ceramics are key to creating that dreamy feeling.
Embracing the Outdoors
One of the most incredible things about living in Shoal Creek is the lush, storied natural environment, which tumbles down the Appalachian foothills like a cornucopia. With all this bounty at your fingertips, why not bring a touch of that beautiful world indoors? Look for ways to bring vegetative textures like cotton, fig, gourd, and oak leaf into your home décor to achieve balance and harmony.
If you don't have the time or green thumb to fill your home with houseplants, there are other ways to bring the outdoors in. For furnishings and functional pieces, choose natural fibers like rattan, wicker, cane, and wood. And as always, look for ways to amplify natural light, especially as those deep blue autumn skies and early nights start coming on.
Autumnal Abundance
It's time to reclaim your space in the name of cozy elegance and serenity. Get ready for all the joyous autumn gatherings on the horizon with these fresh and fabulous home décor inspirations fit for your luxury neighborhood. 
Shoal Creek: Get Away Every Day
When you're ready to craft a custom home in the secluded gated community of your dreams, Shoal Creek is waiting. See your vision come to life in Birmingham, Alabama's premier luxury neighborhood. Come explore the possibilities—call us at (205) 991-4653 or contact us here.