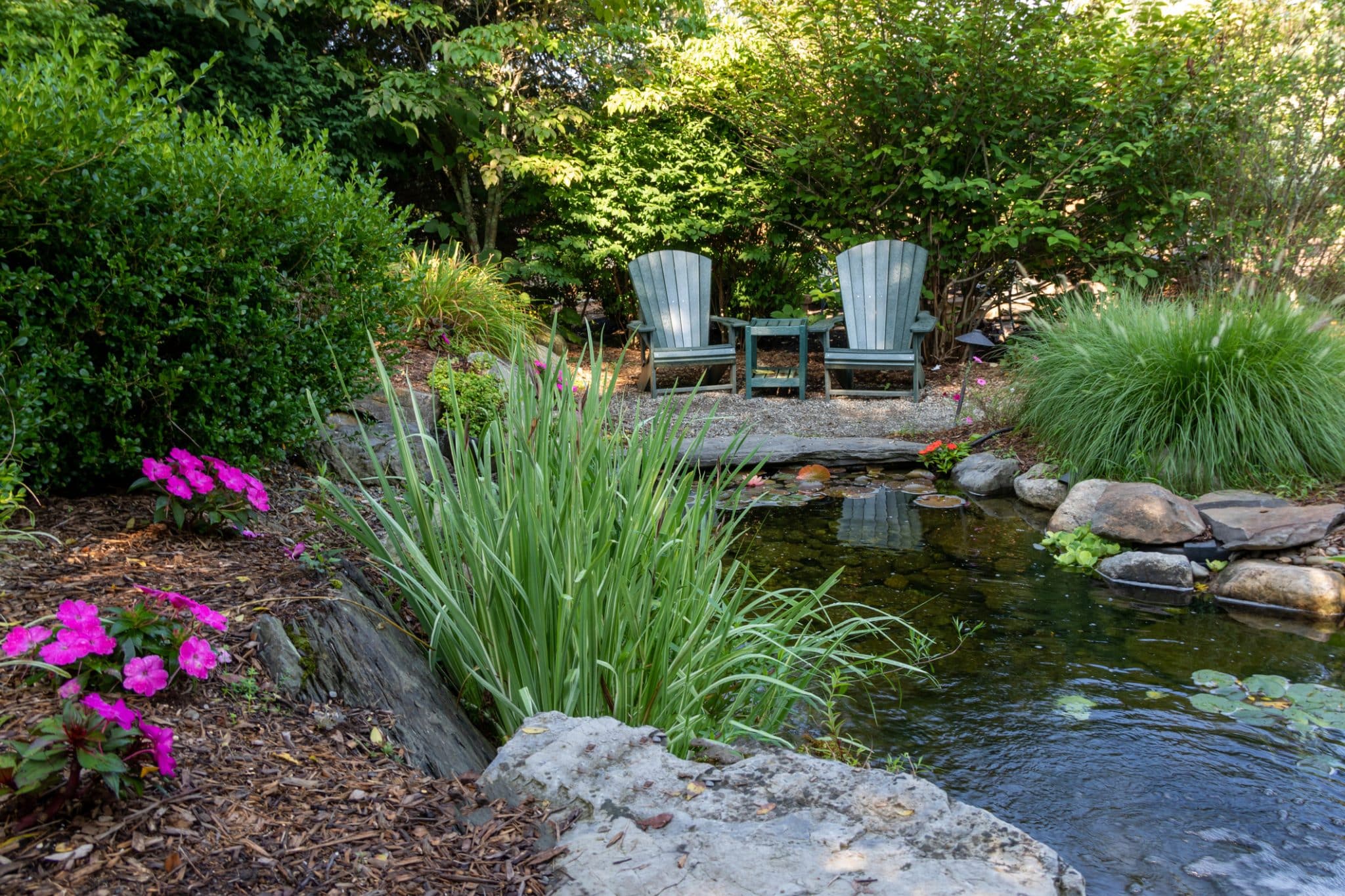 Aesthetic Landscaping in Alabama: Backyard Paradise Ideas

We've talked before about ideas for turning your backyard into a true oasis, from ideal trees and flowers to trendy yet timeless landscaping themes. Of course, at Shoal Creek, the possibilities for homeowners are endless, which is why we're back with more backyard paradise ideas. Alabama's climate provides unique opportunities for landscape design, and with large lots to play with, you'll have room to grow at Shoal Creek!
Top Backyard Paradise Ideas for Custom Homes in Birmingham
Making a backyard beautiful does so much for your home and the environment. Being surrounded by trees and flowers does wonders for our mental health, and carefully considered landscaping can even preserve nature. Let's dive into some of the top considerations to start with when you're planning out your backyard paradise.
#1 – Outdoor Living Spaces
One of the most important parts of creating your outdoor oasis is being able to immerse yourself in it. Think about incorporating comfortable seating areas where you can enjoy the fruits of your backyard. From simple Adirondack chairs to pergolas, gazebos to outdoor kitchens, you have unlimited design freedom at Shoal Creek.
These spaces can be customized to suit Alabama's climate, giving you cooling shade in the summer or a place to host cozy football parties in the fall. If you work with a trusted local landscape architect, they'll be able to help you choose the perfect spot to maximize your desires.
#2 – Water Features
Whether you're after the soothing sounds of a babbling brook to help you unwind or the tranquil natural beauty of a wooded wonderland, water features are an amazing idea in Alabama. They can attract local wildlife, improve your air quality, and even increase your property value.
Here are a few tips to help you get started:
Location: find a spot that is level and well-drained, and that gets plenty of sunlight.
Size: Since lots at Shoal Creek are so large, you can feel free to dream big, from ponds to waterfalls to creeks. Try staking out a portion of the yard to get a sense of the size you want.
Materials: The materials of your water feature have a major impact on its look and feel. Concrete can achieve a formal, modern look, while local stones can blend with Shoal Creek's pristine forested surroundings.
Plants & Flowers: Create a lush and inviting atmosphere around your water feature with native plants that will thrive in warm and wet conditions.
Lighting: Lighting can be used to create a calming and relaxing atmosphere, especially at night. Consider solar lights or LED lights for maximum customization.
Landscape Creek Ideas
If your lot already has water running through it, you may be content to leave its natural beauty as-is. However, adding some decorative boulders can enhance the look—and sound—of the flowing water. Anchor turns with large boulders, and then add smaller rounded river stones in straightaways for an appealing and organic border.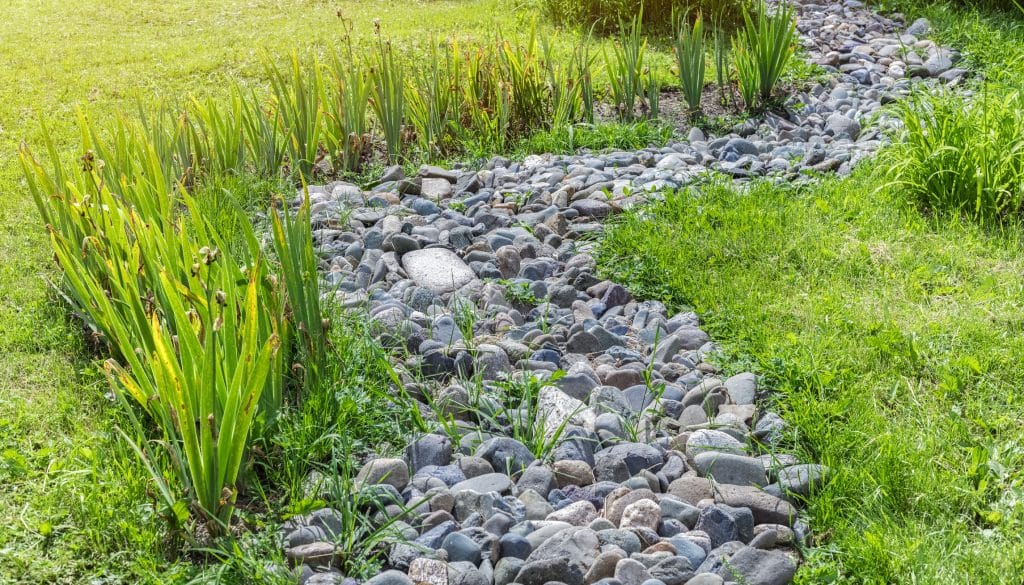 You can even achieve this look without the water, following the same principles. Dry creek bed landscaping is a highly popular trend that adds visual appeal without the need for plumbing. These features can also be functional, slowing areas of heavy water flow from rainfall, diverting rainwater, and preventing erosion problems. 
#3 – Native Plant Landscaping
Alabama is one of the most biologically diverse states in the country. Its unique beauty is widely cherished here, and one of the best ways to support it is to incorporate native plants in your yard. Natives are also a great choice for families with little ones, as they attract plenty of butterflies, birds, and insects like lightning bugs!
Daylily Bed as a Focal Point
Many people love the idea of a backyard or front yard daylily bed design, because of this flower's fierce beauty and hardiness. However, it is also regarded as an invasive species in some gardening circles—daylilies are not native to North America. They can still be a great choice for adding color and interest to your yard, though, according to Sallie Lee of the Alabama Cooperative Extension System.
It's best to do a little research about this plant and come to your own conclusions, or hire a professional landscaper. If you want the bright, fiery beauty of daylilies but prefer natives, consider these alternatives!
#4 – Unique Landscaping Bush Ideas
Bushes and shrubs can be used in landscaping in a variety of ways to create visual interest and privacy. While Shoal Creek residents don't have to worry about privacy from their neighbors—our lots are substantial—homeowners can still use them for other creative purposes.
Bushes for Privacy Screening: Create distinct areas of your yard for a secluded getaway, using options like boxwood, arborvitae, or a flowering shrub like Rose of Sharon.
Sculpted Bushes and Topiaries: Create a focal point in your landscape with a uniquely shaped plant. Boxwood and Italian cypress are classic, easy-to-shape choices. For areas of low shade, consider English yew or Spiraea.
Add Color and Texture: Consider mixing and matching shrubs of different leaf colors, or different textures, such as smooth, spiky, and feathery, to enhance variety.
Attract Wildlife: To provide food and shelter for birds, butterflies, and other friendly, pest-controlling critters, consider flowering dogwood, beautyberry, or Eastern redcedar
Build Your Perfect Yard: Explore Land for Sale
Shoal Creek is the ideal place to build the backyard of your wildest dreams. With full creative license, you can create any kind of garden getaway—from sleek, modern, functional outdoor luxury to cozy and sustainable native wilderness. Browse our available homes for sale or lots for sale to find your dreamscape.
Shoal Creek: Luxury Homes & Lots for Sale in Birmingham, AL
If you're seeking a prestigious gated community where you can build a luxurious custom home all your own, Shoal Creek is your destination. Located at the base of Double Oak Mountain, our gated community offers unmatched privacy, beauty, and serenity in Central Alabama. To schedule a visit or learn more about our neighborhood, contact us online or call (205) 991-4653.