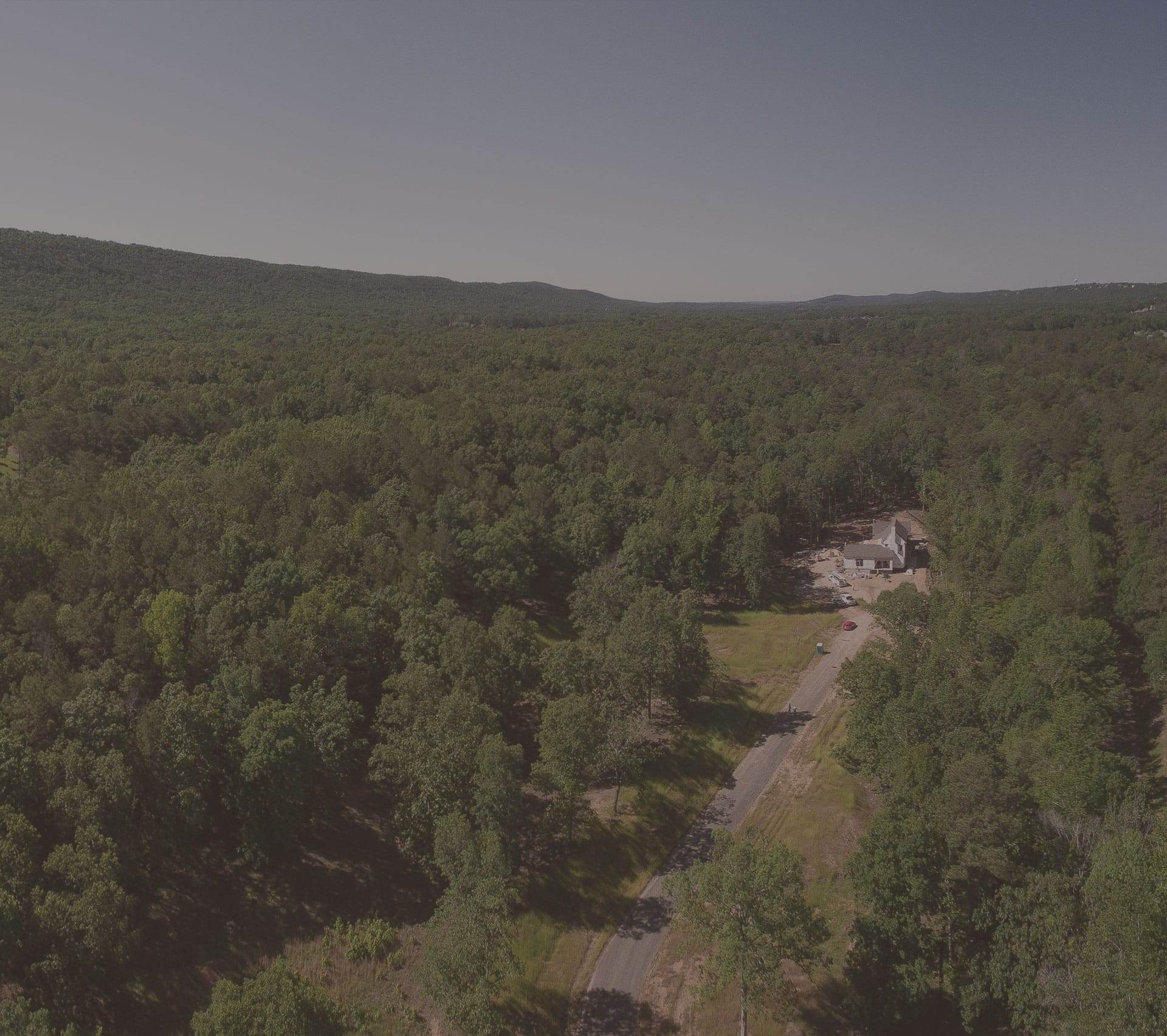 Shoal Creek: Partnering with our Birmingham Realtors

Tucked away from downtown Birmingham and a short, scenic drive from Highway 280, Shoal Creek is home to many exquisite residences and properties. Our established, luxury home community offers incredible amenities and wooded serenity unique to Shoal Creek. We offer custom-designed and custom-built homes, and beautiful lots amidst trees, lakes, and a world-class golf course. 

Living at Shoal Creek is where luxury meets nature. Many home buyers interested in a custom-built home or large-acreage lots of land are actively considering purchasing here. If you're a real estate agent, you may not have visited Shoal Creek until a potential buyer is pursuing a home here. 

At Shoal Creek, we are grateful for local realtors who take the time to show their clients our homes and lots. Our on-site agents enjoy taking the time to meet with, educate, and host our local real estate agents. We believe that selling a home in our community is a much more enjoyable experience if you don't feel like a visitor. That's why we want to get to know you, the realtor. 
Educating Agents and Buyers about Shoal Creek
If you're a real estate agent, you are always welcome within the gates of Shoal Creek – just present your realtor business card to our Security Officer on duty. We understand that a realtor may only drive through our community once you have an interested buyer. The process happens quickly, and often, the buyer has already done their "homework" on potential homes and surrounding communities.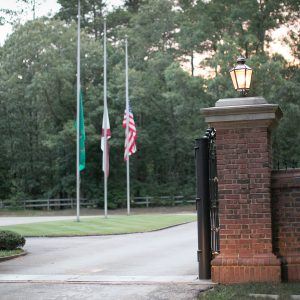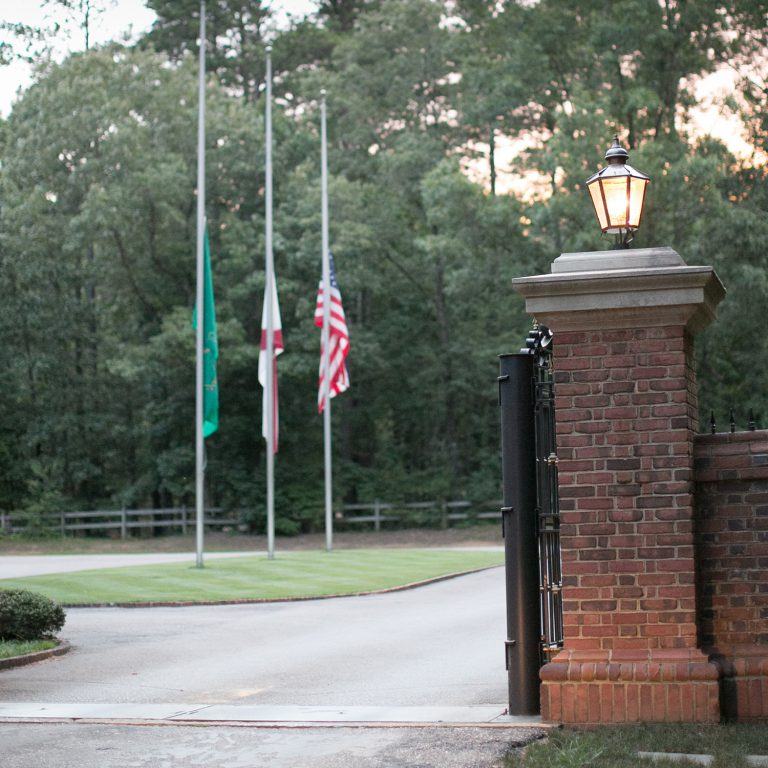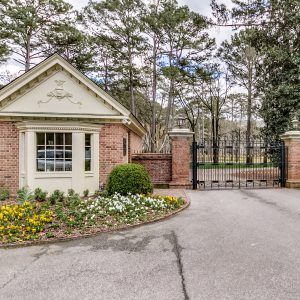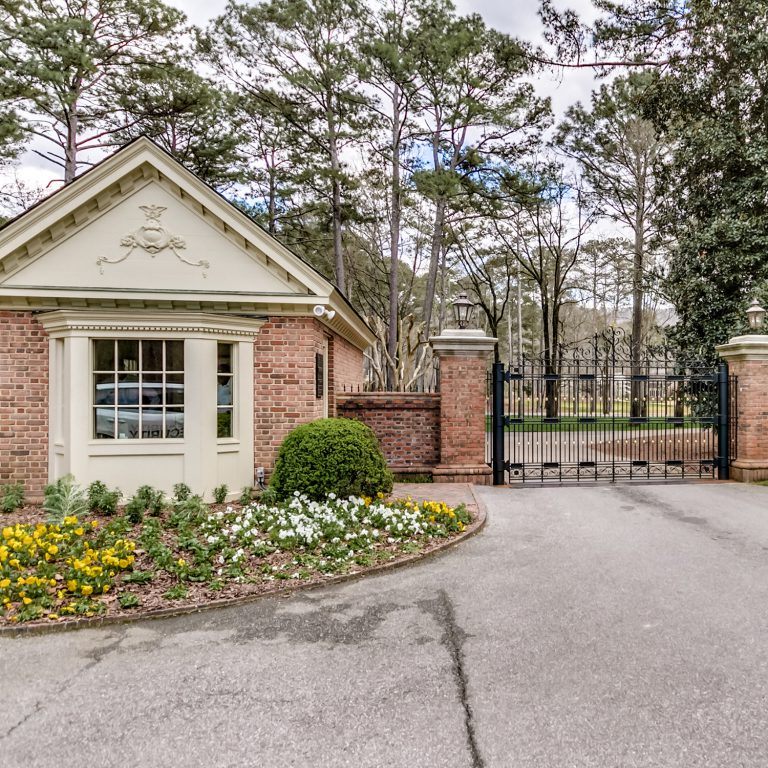 At Shoal Creek, we are eager to meet with you before that process begins. If you've never been to our community, we'll give you a property tour and show you our custom homes, sizeable lots, and first-rate facilities. We can also explain our resident services, and gladly educate you and your clients on the benefits of living at Shoal Creek.  
If you have time, we'll take you to lunch on-site. We'd love to discuss the new houses that are move-in ready, show you the map of our property, and help you evaluate options for your buyer. We take pride in our luxury community, so it's our pleasure to have conversations with you about our homes, properties, history and culture, and friendly residents with you about our homes, properties, history, culture, and friendly residents. 
Ultimately, the best way to understand our unique community is for you to experience it with a personal tour. Shoal Creek is home to many impressive, three to five million grand estates as well as gorgeous residences with a more moderate price tag. Touring our property will give you the opportunity to view these homes, and keep in mind the many options that Shoal Creek has to offer. Shoal Creek has a wide variety of homes, within a wide price range, offering some lots that are 1/2 acre beginning at $99,000.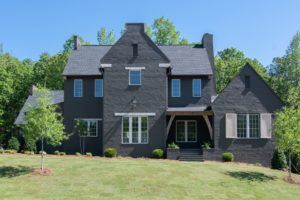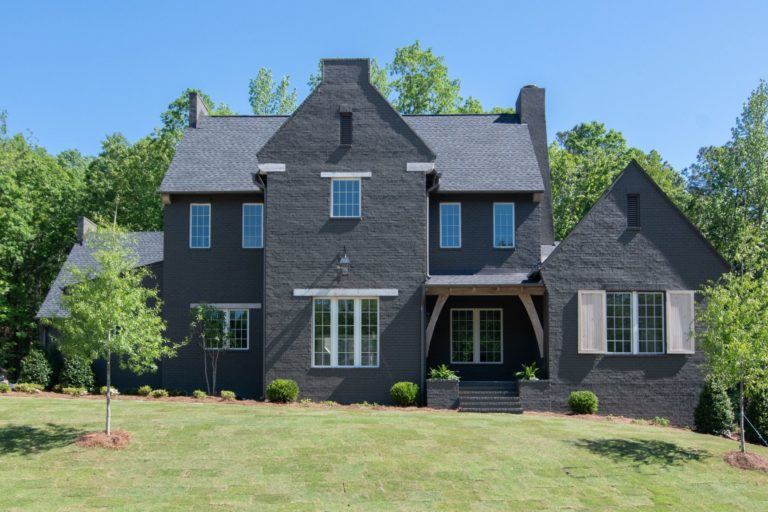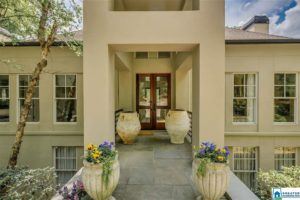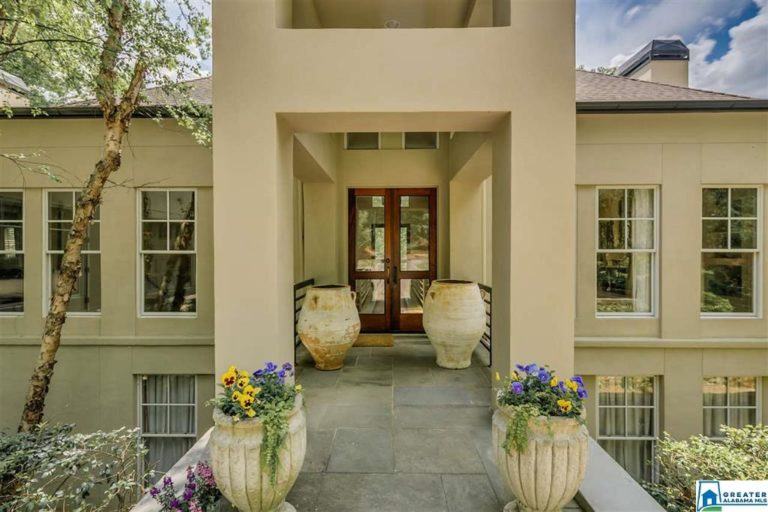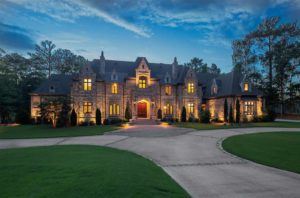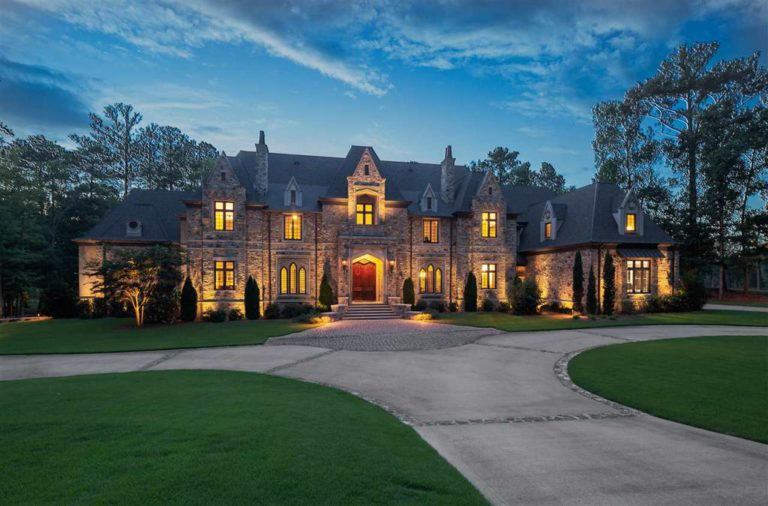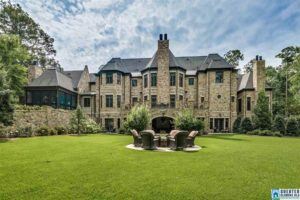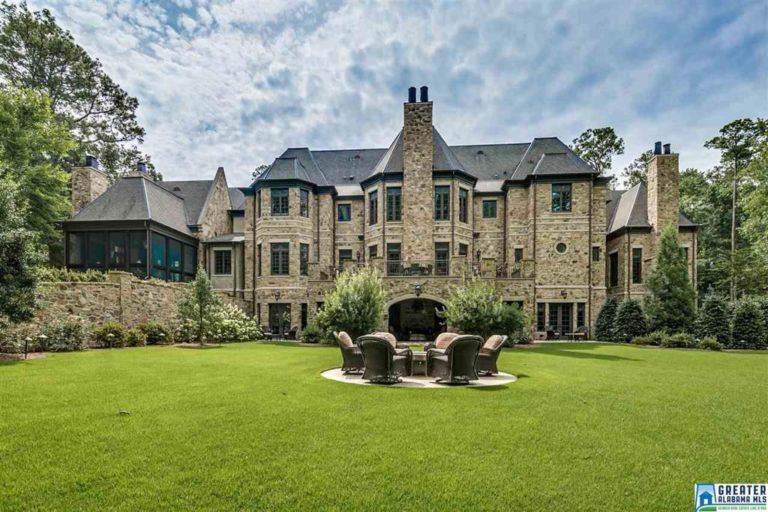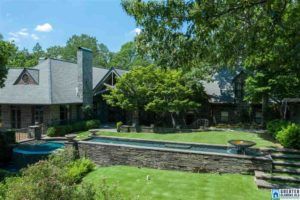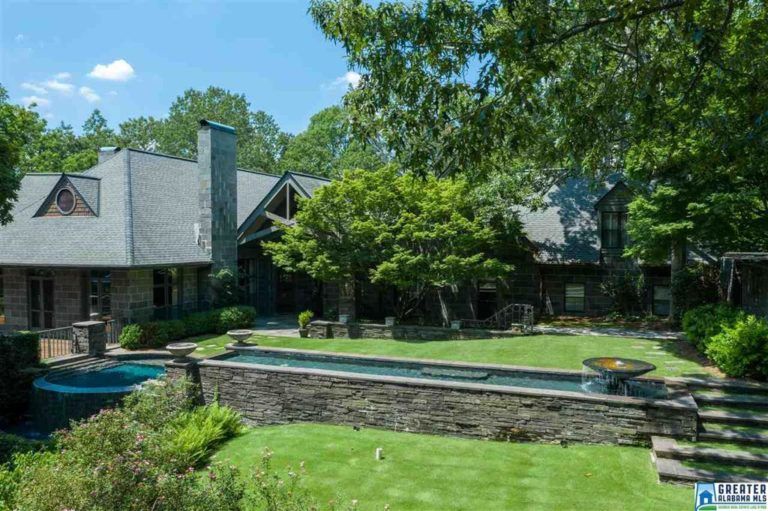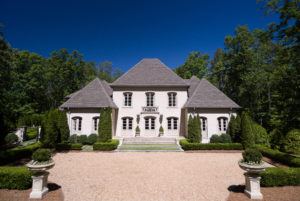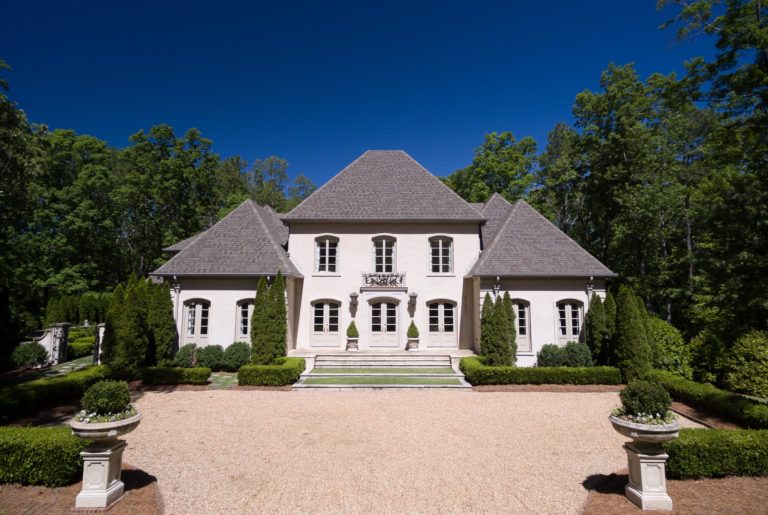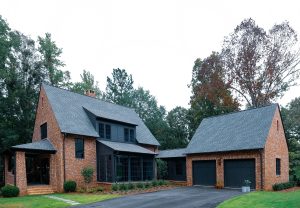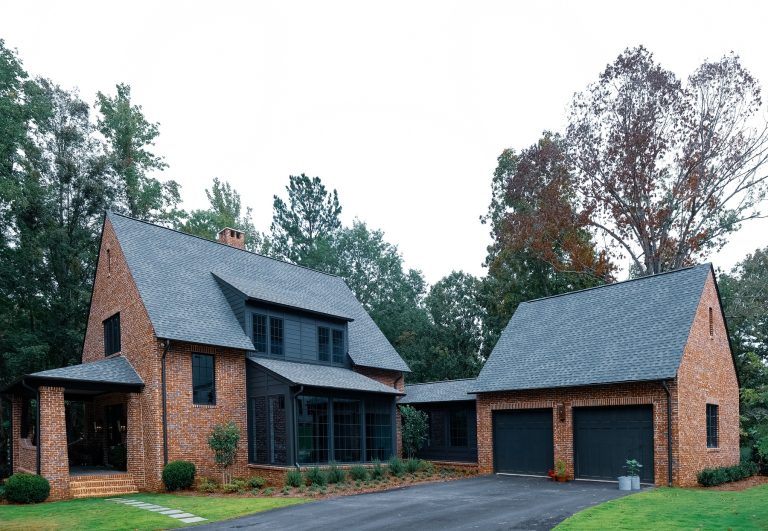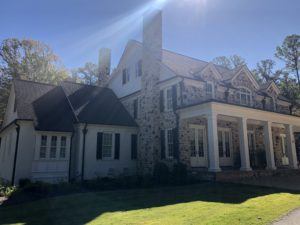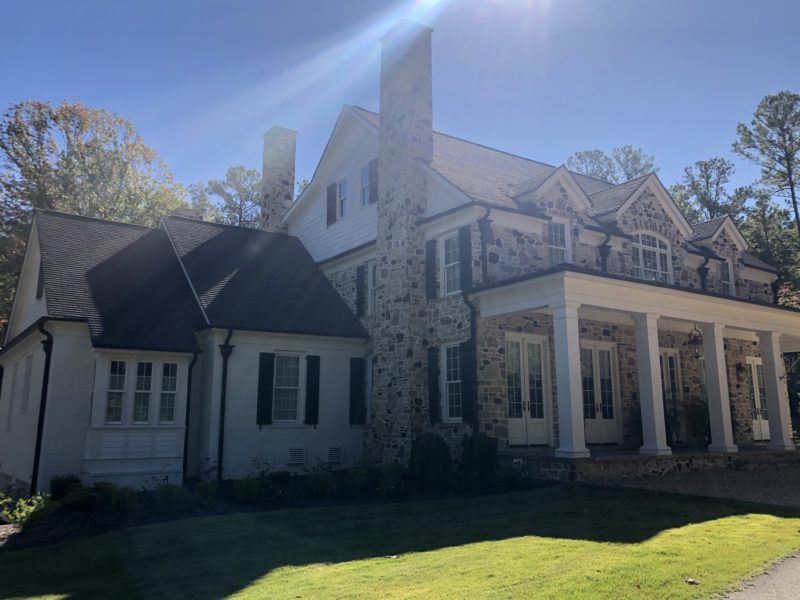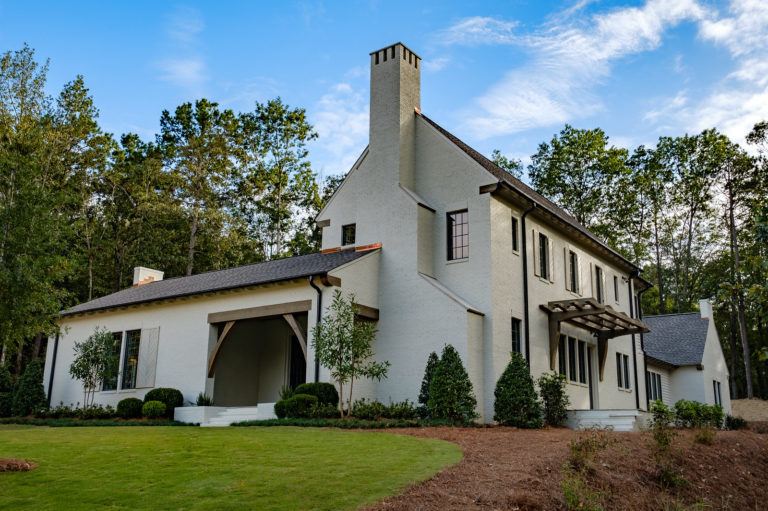 We love hosting real estate agents!
We've been hosting realtors and their staff meetings at our Clubhouse for several years. Shoal Creek provides breakfast and drinks, and even gift baskets and gift cards for you and your group. The clubhouse is a gorgeous, private space for a weekly meeting for your team. Let us show you that we value the work that you do.
Additionally, meeting for a short overview and exploring the Shoal Creek properties gives you more perspective when selling a home and property. We've enjoyed hosting events for entire realty branches based here in Birmingham, such as the RE/MAX Southern Homes realtors photographed below on our clubhouse patio.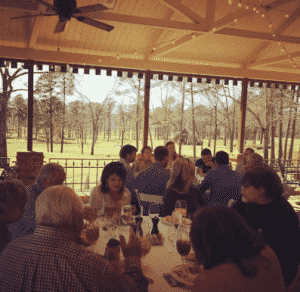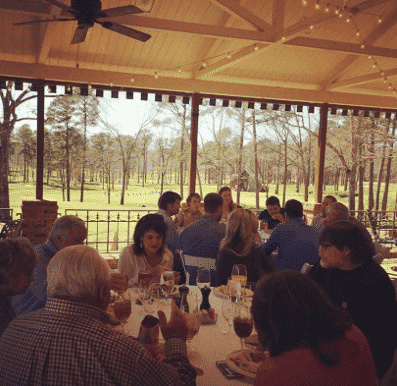 Also, our on-site agents visit realtor branch offices to provide necessary information that realtors may not otherwise know. Many realtors are surprised to learn about some of Shoal Creek's protective covenants.
Our protective covenants being: that a buyer can bring their own reputable builder; there is no minimum square footage required; a wide variety of lots for sale in size and price range; no maximum time to hold a lot before building; there is not a strict architectural style that must be used; and that you do not have to be a member of the Shoal Creek Club to live in Shoal Creek. Our on-site agents and HOA office are happy to provide a copy of the protective covenants and answer frequently asked questions by potential buyers.
In these meetings, we'd love to talk with you about what's available for your potential buyers in Shoal Creek. Our Shoal Creek properties include both custom-built homes as well as property lots for sale. Our newest development, Troon Hamlet, a small cottage community, has available lots and homes. 
Visit Shoal Creek and meet with our on-site realtors
With 1,000 densely forested acres including 400 acres of an undisturbed ridgeline, Shoal Creek is home to nature and serenity. The properties of Shoal Creek are beautiful and secluded. Our homes are a perfect fit for clients searching for a custom-built home surrounded by the landscape of the foothills. We believe Shoal Creek is full of possibilities, and we'd love to share them with you. 
Our on-site realtor, Kim McFall, provides value for local Birmingham realtors with her knowledge and experience at Shoal Creek.  Give us a call to schedule a visit, personal tour, or to plan your brokerage's next weekly meeting at our distinguished clubhouse. 
SHOAL CREEK – GET AWAY, EVERY DAY
Shoal Creek is a premier, idyllic community set around an equally premier golf course, host of the U.S. Women's Open Championship in 2018. Our vibrant and diverse community of residents enjoys a peaceful, secure setting in nature with all the modern luxuries we have to offer. Come explore Shoal Creek. It's full of possibilities. Call us at 205-991-4653 or contact us here.