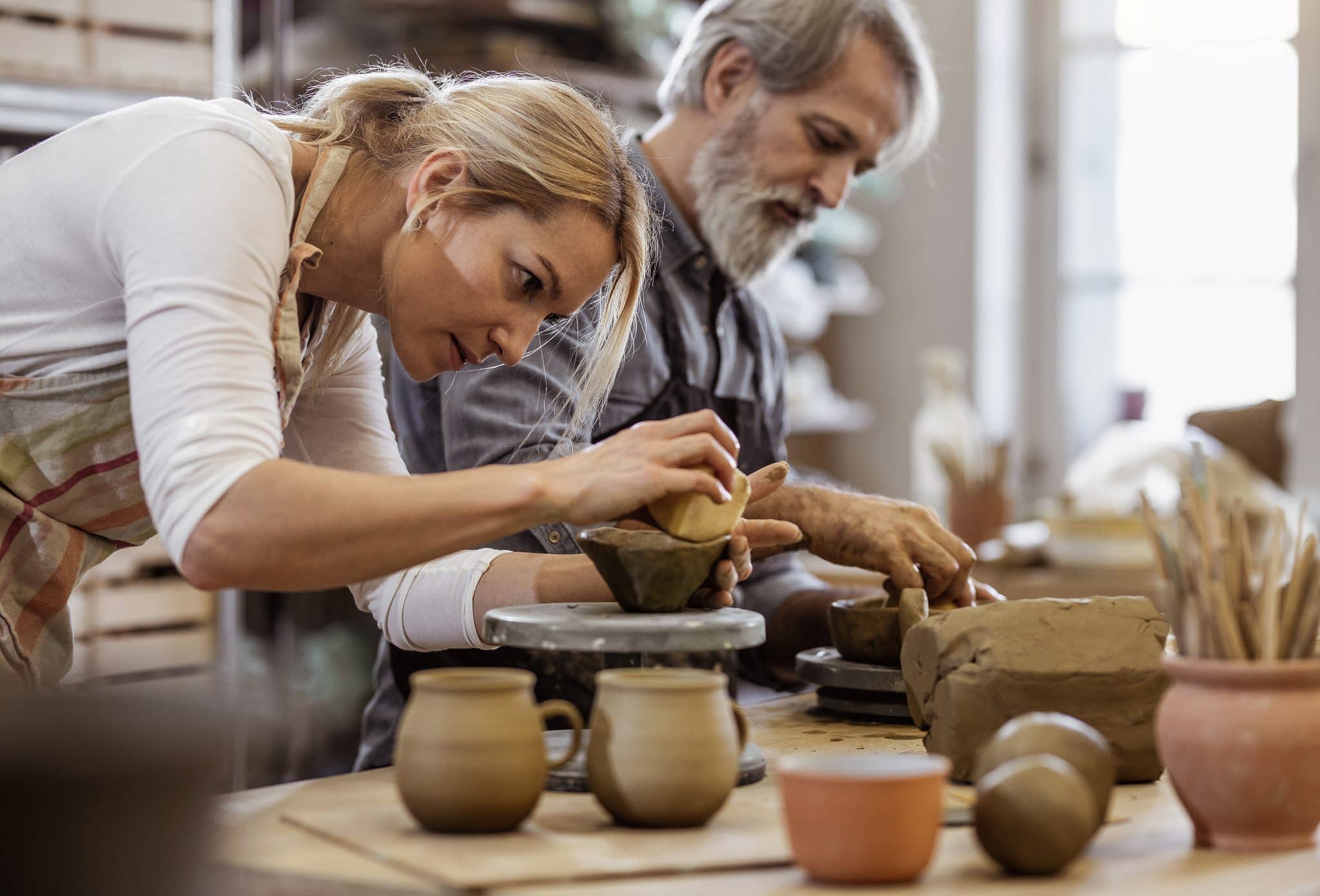 Exciting Hobbies to Try in Birmingham This Year

One of our favorite things about the community here at Shoal Creek is the enormous creativity our residents bring to each of their homes. Just take one look down the lush, forested streets of our gated community. The wealth of visionary custom home designs says it all.

With all this creative energy humming through our neighborhood, it's hard not to feel inspired to live our best lives. Are you looking for a new outlet for that vibrant energy? Check out our list of fun hobbies to try this year. You can explore any of these from the comfort of home or nearby in Birmingham's most sophisticated locales.
Get in Touch with Your Creative Spirit at Red Dot Gallery
Do you feel you have untapped creative energy but aren't sure where to start? Many of us yearn to get in touch with our creative sides. But exploring our talents can often feel like a daunting task. That's where Red Dot Gallery's "Without a Net Workshop" comes into play.
During this online workshop, instructor Dori DeCamillis guides you through a day of creative exercises in the comfort of your own home to discover what moves you. It's an opportunity to invent and play with no stakes—no experience, talent, or skill is necessary. 
If and when you do feel the artist's spark, Red Dot Gallery also offers plenty of other workshops in pottery, painting, drawing, and photography. 
Boost Your Body & Spirit with Ballet
The Dance Foundation in Homewood believes that dance is a joyful, transformative experience for all. That's why they offer a diverse range of ballet and tap classes to help people connect with their inner spirit of motion, exploration, and purpose. 
Whether you're seeking short-term or long-term classes, The Dance Foundation is a wonderful place to begin your journey to improved posture, muscle strength, flexibility, and balance—for mind, body, and spirit.
Create Culinary Memories at the Grand Bohemian Cooking School
You've created the perfect kitchen in your luxury home, so why not put it to good use? The Grand Bohemian Hotel in Mountain Brook invites aspiring gourmands to roll up their sleeves and engage their appetites at their state-of-the-art cooking school. An evening with Chef Joshua Towey and a community of epicurean classmates is a one-of-a-kind experience. Here, new skills are the souvenir. 
Dare to try new things you've never tried before—master basic knife skills or develop your palette with advanced culinary techniques. Wine blending, dazzling hors d'oeuvres, and spectacular Southern cuisine are just a few of the tempting offerings to choose from.
Capture the Moment with Photography Classes
Samford University's Academy of the Arts exists to help people expand their horizons with a variety of courses and workshops. The program's photography classes are especially inspiring, whether you're looking to enhance the quality of your photographs or learn the intricacies of photo editing software.
We especially recommend the academy's outdoor and landscape photography classes. After all, when the lush foothills at the base of Double Oak Mountain are in your backyard, there's no better place to practice your new hobby skills.
Forge a New Path at Sloss Metal Arts 
Steel is the basis of Birmingham's meteoric early rise to economic success, which earned it the nickname of Magic City. Whether you grew up here or are a newcomer to the area, there's no better way to get in touch with the spirit of the city—and your inner Vulcan—than a metal arts workshop at Sloss Furnaces. 
The Sloss Metal Arts Program offers regular classes in creative welding, blacksmithing, and beginner casting. Learn the basic processes used to create cast iron and bronze sculpture or fabricate fantastic works of steel. If you've felt the call of a fiery creative spirit, this is exactly where you need to be.
Bring Your New Hobbies Home
It's never too late to learn something new. Finding a way to express yourself and unwind is a wonderful way to enrich your life. Whatever hobbies you choose, you have room to explore and capitalize on them in your custom home here at Shoal Creek.
In a community that rewards creative innovation and provides a safe and secure location to practice, you have every reason to try something new this year!
Hobbies, Heart, and Hearth at Shoal Creek Luxury Neighborhood
Shoal Creek is Birmingham's premier gated community. Our world-class golf course is just the beginning of the story. Here, you can live your ideal life of luxury tucked in the gorgeous foothills of the Appalachian mountains. To learn more about our properties, call us at (205) 991-4653 or contact us here.