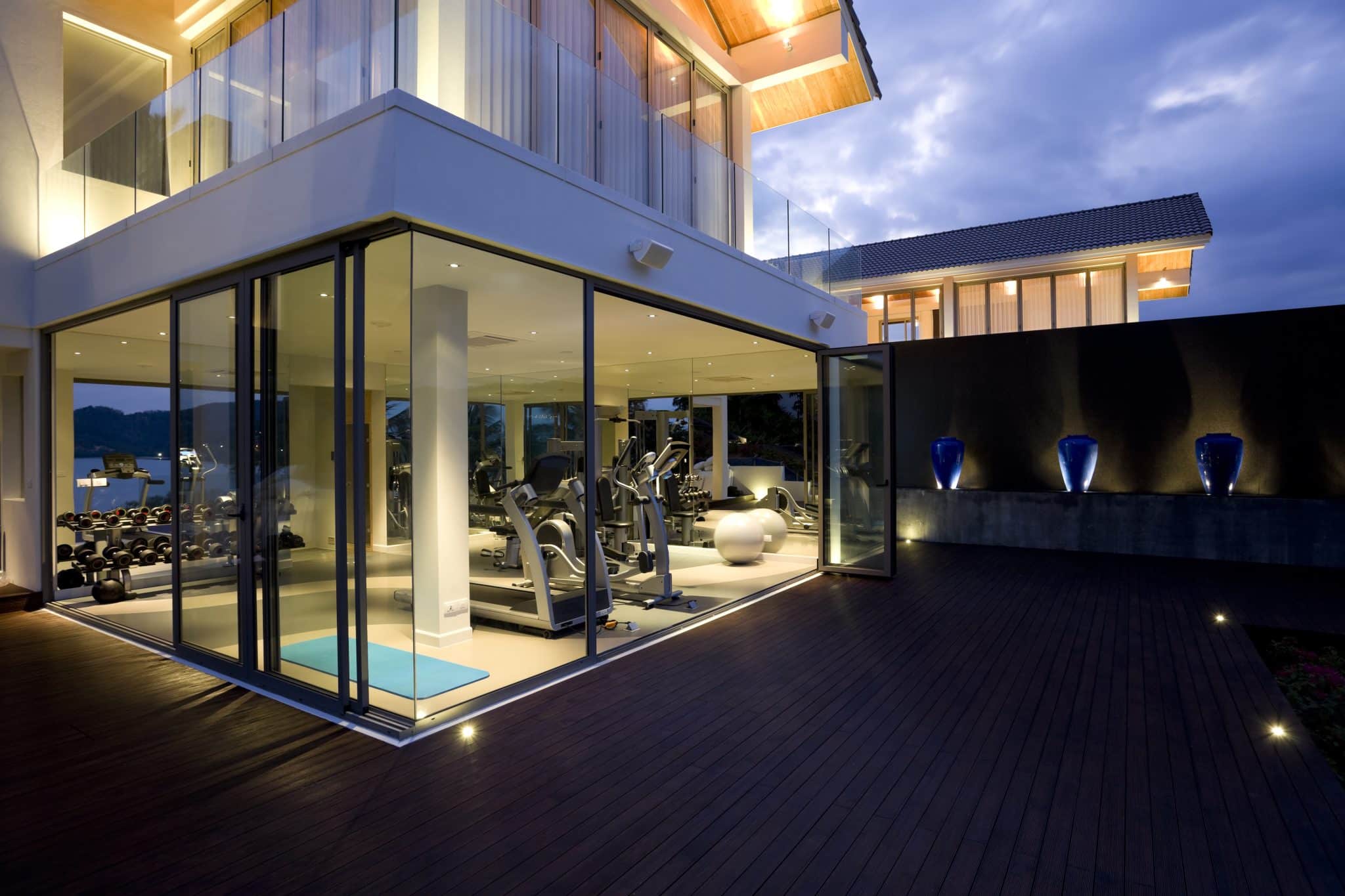 Luxurious Home Gyms: The Latest Custom Home Design Trend

Building a permanent wellness space in your custom home is quickly becoming standard practice. Luxury home gyms have become a prominent aspect of new builds, and the more bespoke the better! When you have the opportunity to craft a fitness space around your unique goals and favorite activities, you're much more likely to enjoy an active and healthy lifestyle.

When you build a custom home in Shoal Creek's luxury gated community, you have the creative license to prioritize the healthy activities you love most. Read on for our guide to designing the ideal luxury home gym for your family.
Include Sauna and Spa Elements
The Ancient Romans routinely blended athleticism and bathing, crafting wellness centers with steam rooms and hot and cold baths. There's a real science here, as saunas and steam showers can enhance your workout recovery, boost muscle strength and power, and improve circulation.
If you don't feel the need to create space for a sauna, consider placing your gym near a bath or shower room for quick and convenient post-workout rinse downs. If your custom home dreams include a luxury pool, easy access between gym and pool is also a major plus! 
Incorporate Spectacular Outdoor Views
Lighting is an important aspect of any room in your custom home. Ideally, your gym will incorporate plenty of natural light. Not only can natural light help motivate your workouts—it also gives you one more way to appreciate the sprawling natural beauty of Shoal Creek!
Mood and ambient lighting can also set the perfect tone for different workouts. And because this is your own private sanctuary, you can incorporate types of light that commercial gyms can't—think sconces, chandeliers, and more.
Furnish Your Home Gym with High-End Equipment
Choose equipment that fits naturally with not just your goals but your interests! If you love the social aspect of gym classes, try investing in interactive fitness systems like Mirror, Tonal, or Forme. For a high-end cardio blast, consider streamlined bikes and treadmills like Peloton or Wahoo. And for elevated fitness weights, you can't go wrong with brands like Bala or Kenko. 
Don't forget to think carefully about your luxury home gym's layout and floor space. In addition to your favorite machines and equipment, make sure you leave room to incorporate fitness mats, stretching areas, and storage. 
Integrate Conveniences Seamlessly
A well-crafted home gym incorporates conveniences you'll really appreciate when you put it into use! Consider the types of media you'll want to have access to, like smart TVs and other A/V systems, and plan ahead for placement and wiring. Outlet placement is key—consider floor outlets that can sit hidden underneath your tech and equipment. 
Custom cabinetry for equipment like ankle weights, jump ropes, yoga mats, gloves, and more can help you stay organized and keep your space looking beautiful. And don't forget to include easy access to water, whether that means including a mini-fridge, sink, or water cooler nearby!
Energize Your Workout with a Stimulating Color Palette
Choosing the right color palette for your workout style can make a significant difference. Consider using colors that are bright, uplifting, and motivating. Reds and yellows are great for high-intensity workouts like cardio and weight lifting. Blues and greens, meanwhile, work well for more mindful exercises like yoga, pilates, and barre. 
If you like to switch up your style, consider incorporating accent walls or middle-ground colors like lime green. Finally, we recommend choosing paint with an eggshell sheen, which is more durable and easier to clean than matte finishes.
Use Designer Materials to Make Your Gym Stand Apart
Your gym is meant to be a haven for wellness, so why not make it as beautiful as possible? In your luxury home, you have the freedom to choose upscale materials like wood, steel, leather, and bronze that can transform your space from afterthought to artspace. After all, if your gym is aesthetically pleasing, you're much more likely to want to spend time in it.
Luxury brands like NOHrD, PENT Fitness, and Modest Vintage Player craft high-end gym equipment that excels in both form and function. With stylish machines and bespoke design options, you can craft a gym that inspires the body and spirit.
Build Your Gym in a Beautiful Home
At Shoal Creek luxury neighborhood, you have complete freedom to design and build the home—and the home gym—of your dreams. Whether you want to fashion a gleaming, top-floor fitness sanctuary or a compact exercise enclave, you have the power to build the best gym for the best you. The possibilities are endless—so get dreaming today!
Shoal Creek: Build a Better Life in Birmingham, AL
Shoal Creek is Birmingham's premier gated community, bursting with natural beauty and world-class neighborhood amenities. With a range of spacious, private properties and lots, protected by round-the-clock security, Shoal Creek is a luxury homeowner's dream come true. Whether you're a weekend walker or a fitness aficionado, explore the opportunities to create a custom home built for your unique vision. Call us today at (205) 991-4653 or schedule your visit online.