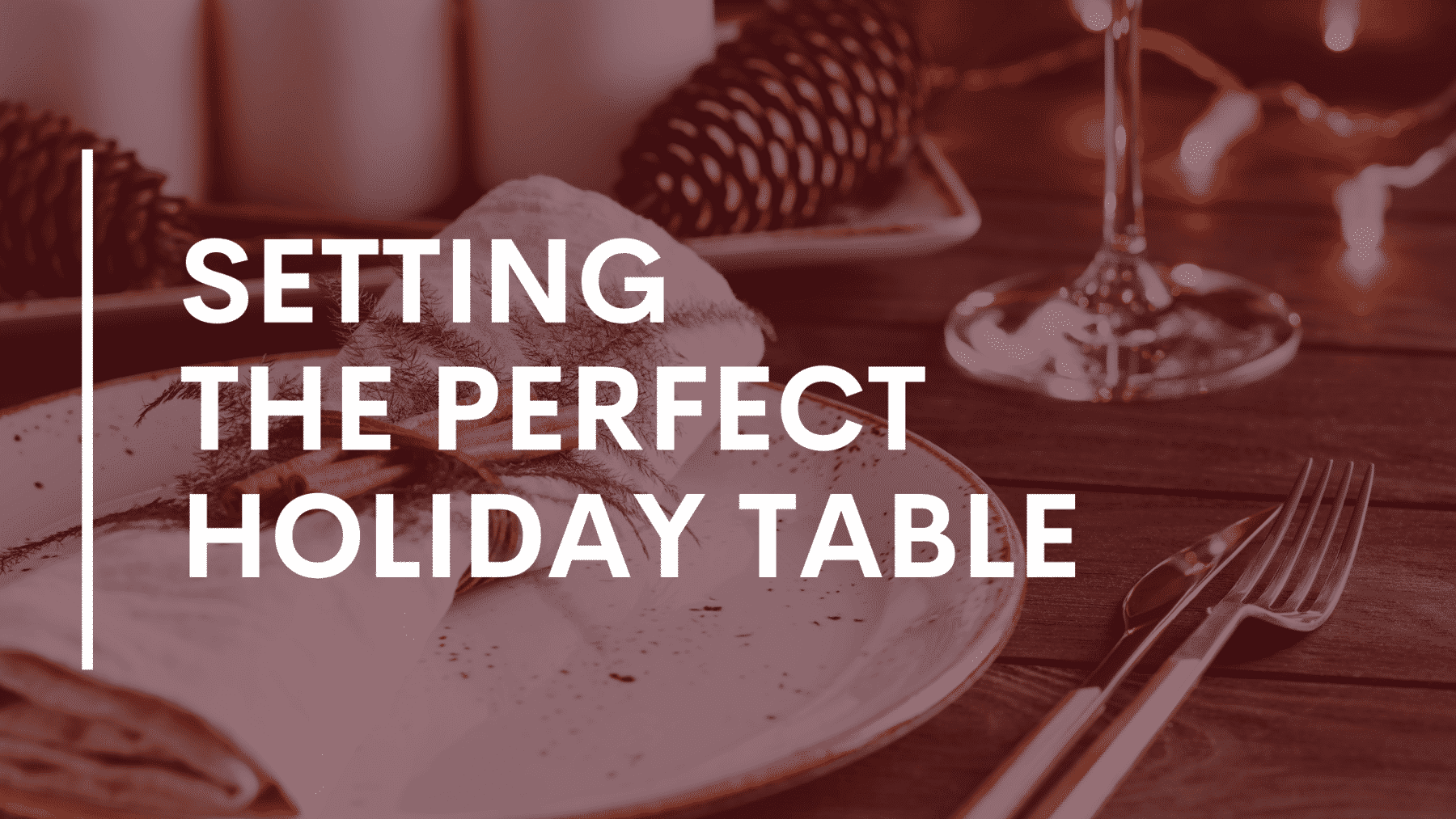 4 Tips for Setting a Beautiful Holiday Table


People are decorating earlier for the holidays this year during the pandemic – we all need something festive in our lives right now! And while many different traditions occur during the holiday season, food is typically at the center of it all. Having a meal together is a fantastic way to connect with loved ones and make memories that you'll remember for years to come. 

Whether you are hosting a "safe" holiday dinner party or simply preparing a meal for your immediate family, a festive table can set the ambiance for the evening. Not only does a marvelous table setting help to set the mood and start a conversation, but it also can be a tangible representation of your family, your home, and your holiday traditions.

Setting the Perfect Holiday Table 
At Shoal Creek, our residents cherish inviting their loved ones over to their homes for the holidays. As family and friends enter into our exclusive neighborhood, they're surrounded by luxury and nature, making even seemingly stressful events feel more comfortable. 
While the host's main priority is often creating a delicious and exceptional meal, another essential element to prepare is your dining table. Ultimately, arranging and decorating the table establishes the mood for the evening. Our Shoal Creek residents helped us compile these tips for making an unforgettable evening for a holiday dinner, starting with setting the perfect table.
1. Lay the Foundation with Neutral Linens

Starting with a neutral aesthetic elevates the feel of luxury without being too intimidating. Pass on the cheesy holiday-themed table setting and instead begin with a simple yet elegant linen tablecloth or table runner. When selecting your runner, tablecloth, placemats, and napkins, choose beautiful, sophisticated pieces with unique textures and muted colors. 
As you add layers to your table, your linens will complement your holiday decor accents, not overshadow complement them. Additionally, simple doesn't have to mean boring. For example, you can include a beautiful, holiday-themed origami napkin to your table to bring a unique touch.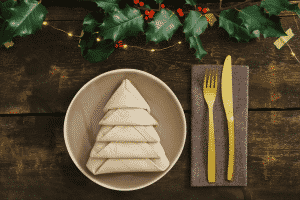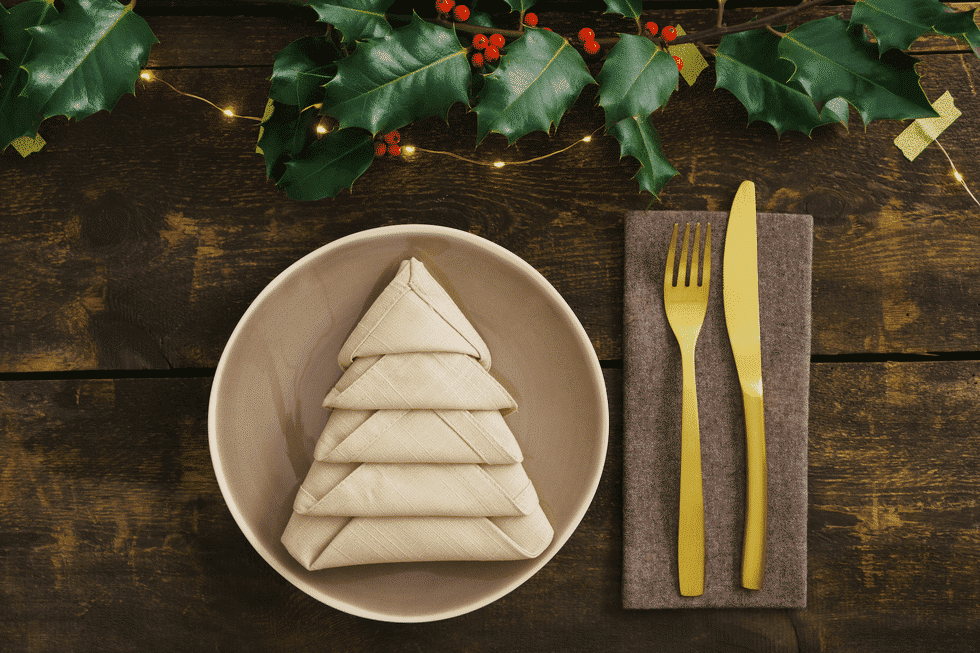 2. Incorporate Functional and Beautiful Dinnerware

There's never a better time than a formal holiday dinner to bring out your astonishing, extravagant dinnerware and glassware. Polish your silver pieces, and display your beautiful collection of heirloom crystal or china. 
If your dinner is more casual, a sleek white dinnerware set gives a classic, timeless feel. Add some personal touches with a unique layer, such as a charger in a festive color or natural wood texture.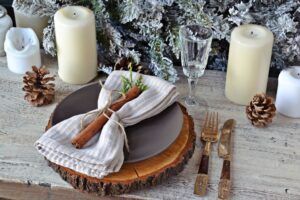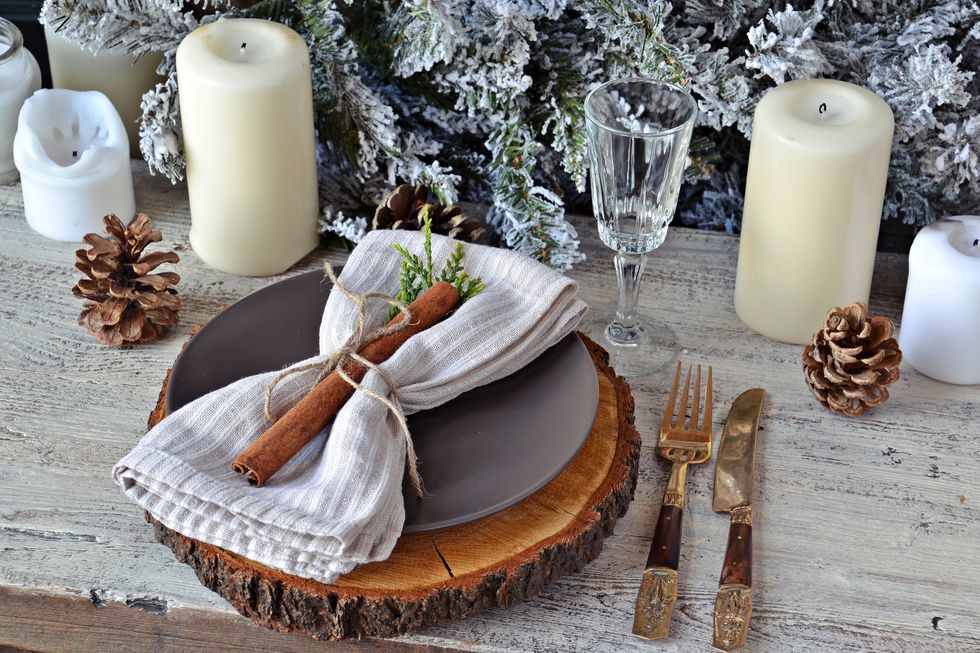 3. Accent with Festive and Unique Decor
Your holiday dinner is the ideal time to display your style. Adding festive touches to the dining table set will show your personality. Just because it's a holiday dinner does not mean you have to include cliché decor. Instead, decide what atmosphere you desire at your holiday dinner, and incorporate design elements to support your theme.
There are ways to have the symbols of your holiday displayed without being overly cheesy. If you want to feel like you're in a winter wonderland, adding white lights can resemble snow on your dining table!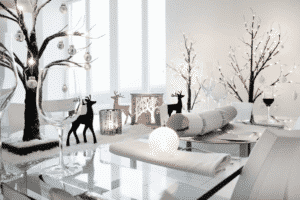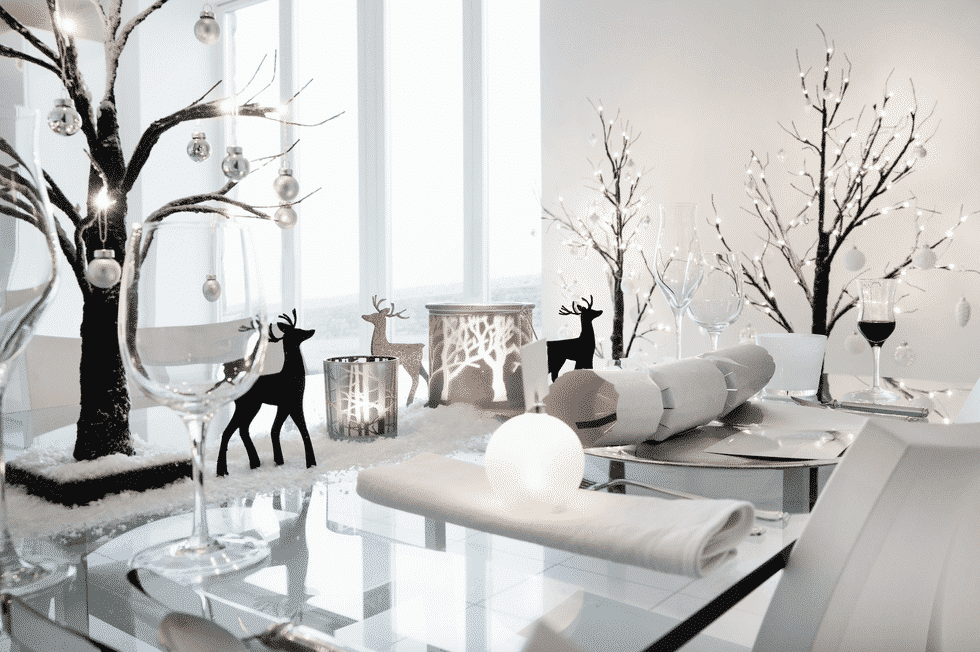 4. Personalize with Your Traditions
Don't feel pressured to play it safe with your table setting; rather, include design elements you love! If you love bright colors or if you always set out chocolate-chunk cookies with the milk for Santa, find ways to include little details like that into your holiday dinner. 
Get creative with standard Christmas decorations by putting a bowl of ornaments, chocolate-dipped candy canes, and a garland centerpiece to your table. Or for a more rustic holiday feel, add nature elements, such as pine cones, wood, and cinnamon sticks. 
Also, while a traditional Hanukkah table typically has a color theme centered on blue, incorporate a beautiful floral arrangement or vase that highlights the white, gold, and silver. 
Ultimately, the goal is for your table setting to add to the experience of your holiday dinner. By setting an intentional, beautiful dining table, your guests and loved ones will be delighted and impressed by your extra efforts for this holiday season.


Shoal Creek: The Perfect Place to Call Home for the Holidays
Shoal Creek is a stunning place to live all year round. If you're looking for a custom home in a beautiful, exclusive neighborhood in Birmingham, the luxury community of Shoal Creek is for you.
Come explore Shoal Creek. Call us at (205) 991-4653 or contact us here.