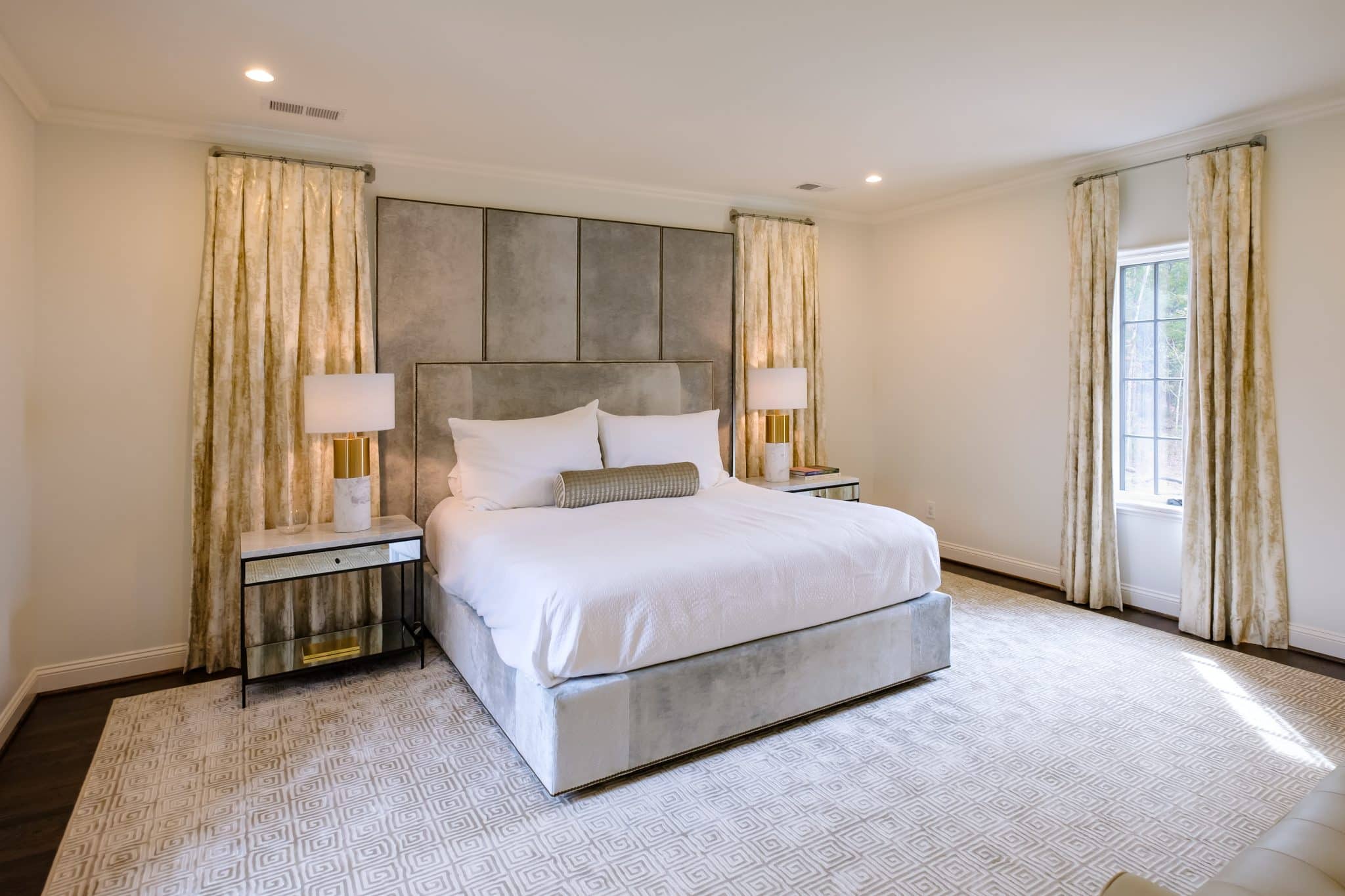 Top Luxury Bedroom Design Trends for Any Season

Life at Shoal Creek is all about luxury—and the freedom to make your house a haven. And whether you're building a custom home or shifting your style as we enter the latter part of the year, the bedrooms of your home are where dreams can become reality. From master bedrooms to guest rooms, a well-designed space goes a long way toward rest, relaxation, and rejuvenation in everything we do.

For redecorators and first-time builders alike, here are our recent favorite design inspirations for creating a true sanctuary for sleep.
Comfort First
Having a chic, luxury bedroom doesn't have to come at the cost of comfort. Each bedroom in your home should be a sanctuary, a place where relaxation comes as second nature. Indulge in plush pillows and other cozy accouterments, like cashmere throws, down comforters, and even scented candles—whatever will help you wind down best.
Soft, warm lighting and calming colors (neutrals, pastels, and blues, especially) can help set the stage for de-stressing. And don't be afraid to make it personal! If you love reading before bed, consider sleek, built-in bookshelves or a high-end reading light built into your headboard. If you need total darkness to rest, create a moody moss-green getaway with bold, light-blocking drapes. There are so many ways to personalize your needs with sophistication.
Bold Accents
Soft neutral tones and muted pastels are a wonderful way to de-stress, but choosing bold accents can give your room a pop of intrigue and color that make the bedroom a true destination.
Lately, we've been seeing lots of accent walls that take advantage of vermillion, emerald, and ochre tones that bring earthy depth into the room. If an accent wall feels like too much, you can always incorporate a bright contrasting throw, curtain set, or collection of decorative items.
Textured wallpapers are another trend that can help bring subtle luxuriance to a bedroom—consider grasscloth, herringbone, or poplin textures. Or, use a piece of artwork as the centerpiece, designing the room around its colors and finish. The possibilities are endless!
Statement Patterns
To add visual interest to the minimalist, clean lines that have been popular for years, play around with patterns! Geometric patterns are all the rage because of how well they compliment clean lines while still adding unique, eye-catching form. Stripes also add layers and texture, a timeless choice that isn't going anywhere anytime soon.
Can't decide between two gorgeous patterns? Layering is all the rage this year. With a little eye for detail, you can mix and match patterns like a pro. Here are the basic rules to keep in mind to create a stylish balance:
Use at least three patterns
Choose different scales: a mixture of large, medium, and small patterns
Use colors that compliment each other in hue and depth (all pastels, for instance, or all jewel tones).
Right now, we're loving geometric, soft floral, and zigzag patterns—but play around with all the possibilities of herringbone, plaid, paisley, and more!
Organic Fabrics
Natural vibes are here to stay when it comes to interior design. And while we can use lots of earthy tones and garden-inspired decor, using actual organic materials takes the luxurious feel up a notch. Sustainable and sophisticated, both TENCEL Lyocell (derived from eucalyptus) and bamboo sheets are not only organic but sensually soft, breathable, and gentle on the skin. For top-tier luxury and sustainability, opt for organic linens or even recycled cottons.
Indulge in Your Guest Rooms, Too
When designing the ultimate luxury bedroom, don't forget your guest rooms! Spare rooms offer a chance to have fun with different design elements and themes. And setting up your guest bedrooms now will give you plenty of time to make them perfect before you have to start planning for the arrival of your holiday guests!
The same rules of thumb apply to these rooms: comfort first, with intriguing elements that make the room feel like a destination. Just make sure to meet your guests' needs before they have them: provide an abundance of towels, throws, and linens so they won't have to ask. And if you want to go the extra mile, stock your guest rooms and guest bathrooms with small toiletries like toothpaste and body wash.
Design the Luxury Bedroom of Your Dreams
Being a part of Shoal Creek's gated community makes it easy to rest your head at night, knowing that you and your family are always safe and secure, tucked away in the natural splendor of Double Oak Mountain. But a little interior decorating inspiration certainly never hurts! We hope these tips give you some inspiration for your next luxury bedroom project. Sweet dreams!
Shoal Creek: Birmingham's Premier Luxury Neighborhood
Where do you dream of setting your head down at night? If you're ready to see yourself in Birmingham's most high-end gated community, please be our guest. We are proud to showcase the most beautiful homes in central Alabama with a vibrant community to match. Schedule your visit to inquire about available properties and homes for sale by calling (205) 304-5817 or request an appointment online.