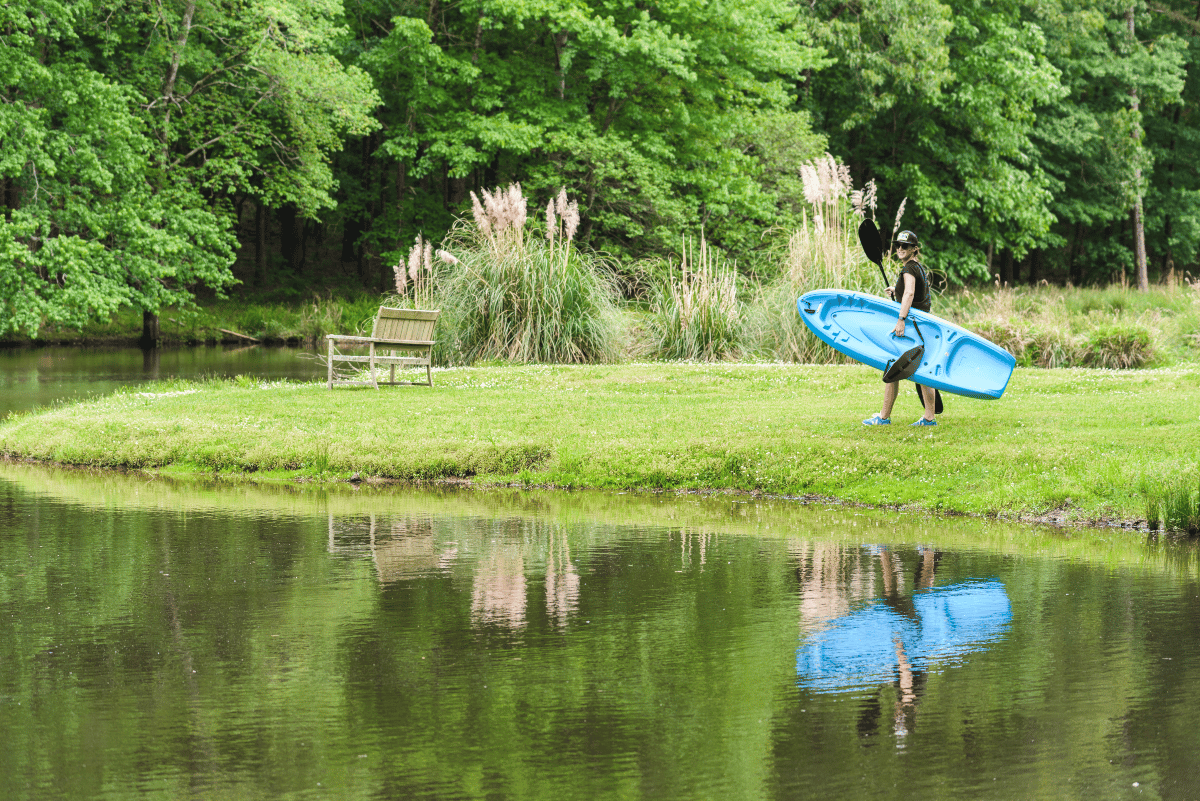 Shoal Creek's Fall Sports & Adventure Guide 2022

It's hard to believe in all this unrelenting Alabama heat, but fall is already at our doorsteps. The kids are starting a new season of school, the stores are putting out Halloween decorations, and—maybe most festive of all—sportscasters are making their best predictions. We have a lot of sports fans in our gated community, so we wanted to take a moment to highlight some exciting fall sports happening near Shoal Creek.

Here is our guide to fall 2022's sporting season, with great teams you can watch play live and adventures you can have on your own. With so much to see and do from home base at Shoal Creek, you'll have trouble deciding what not to do on a weekend—that is, when Auburn and Alabama aren't playing.
Fall Sports to Watch Near Shoal Creek
UAB Blazers Football
Starting September 1, the Blazers are back in action! While legendary head coach Bill Clark is retiring this year, offensive coordinator and quarterbacks coach Bryant Vincent is taking up the mantle for what promises to be a spectacular season of C-USA football. UAB faces some exciting opponents at Protective Stadium in Birmingham's Uptown district this fall, including Alabama A&M and North Texas.
Birmingham Legion USL Soccer
Legion FC took Birmingham by storm in 2018 as the Magic City's first and only locally owned and operated professional soccer franchise. You'd be forgiven for wondering just how many Southerners really care about soccer—but the moment you arrive at a game, you'll get swept up in the powerful atmosphere. So get ready to Hammer Down (and finally learn what an offside is) on Wednesdays and weekends this autumn.
Birmingham Bulls Hockey
Some of our residents may be old enough to remember going to see the first Birmingham Bulls team play in the 70s and 80s, or the minor league team that replaced them from 1992-2001. Back by popular demand, hockey has once again landed in the Magic City, with a new team, new rivals, and a whole new generation of fans. Watch the new Bulls face off against Southern Professional Hockey League teams at the Pelham Civic Complex starting October 21.
Sporting Adventures to Take Part In
Hit the Track at Barber Motorsports Park
Fall is the perfect season for taking in everything Barber Motorsports Park has to offer, including the museum and annual Vintage Festival in October. But there's even more for the true gearheads among us: a chance to experience professional-level driving on a closed course: no traffic lights, no stop signs, just pure performance.
Throughout the fall, motorcycle enthusiasts can register for Sportbike Track Time to improve their skills, test their bike's performance, and simply have an exhilarating day. Members of Alabama's Porsche Club of America also have their time to shine with High Performance Driver Education days. Learn more about membership, registration, and dates at the Alabama Region PCA website.
Horseback Riding at Oak Mountain
Oak Mountain State Park offers numerous opportunities to ride through the gorgeous foothills of the Appalachian mountains. With approximately 25 miles of horseback riding trails, riders old and young can take in the changing leaves and cooler temperatures of an Alabama autumn. Owners are welcome to bring their own horses, or you can call in advance to book an excursion with a CHA-certified instructor at the Rusted Roof Barn.
Kayaking, Canoeing, & Fishing in Your Own Backyard
Motorcycles and horse trails are exhilarating, but sometimes the best adventures of all are waiting in your own backyard. Within the gates of Shoal Creek, you have your own private oasis at the lake, perfect for crisp autumn mornings and blue-sky afternoons. Unwind with a placid solo trip on the water or set up a pole and teach the kids to fish. Whatever you decide, your private getaway awaits at Shoal Creek.
Fall for Shoal Creek this Autumn
When we say that our world-class golf course is only the beginning of the story, this is what we mean. From private, secure, and serene surroundings, our residents have their choice of a relaxing day in the great outdoors or a heart-pumping experience with any number of games, events, nightlife, and more nearby. So, if you've been looking for the perfect place to call home base, look no further than Shoal Creek.
Get Away Everyday: Luxury Gated Community in Birmingham, AL
Shoal Creek is Birmingham's premier luxury neighborhood, offering residents the best of both worlds: pristine, natural seclusion and proximity to the best that Central Alabama has to offer. There are so many things to do in Birmingham—and even more to enjoy on the grounds of your own custom luxury home. To learn more about properties and homes for sale in Shoal Creek, call us at (205) 304-5817 or request an appointment online.