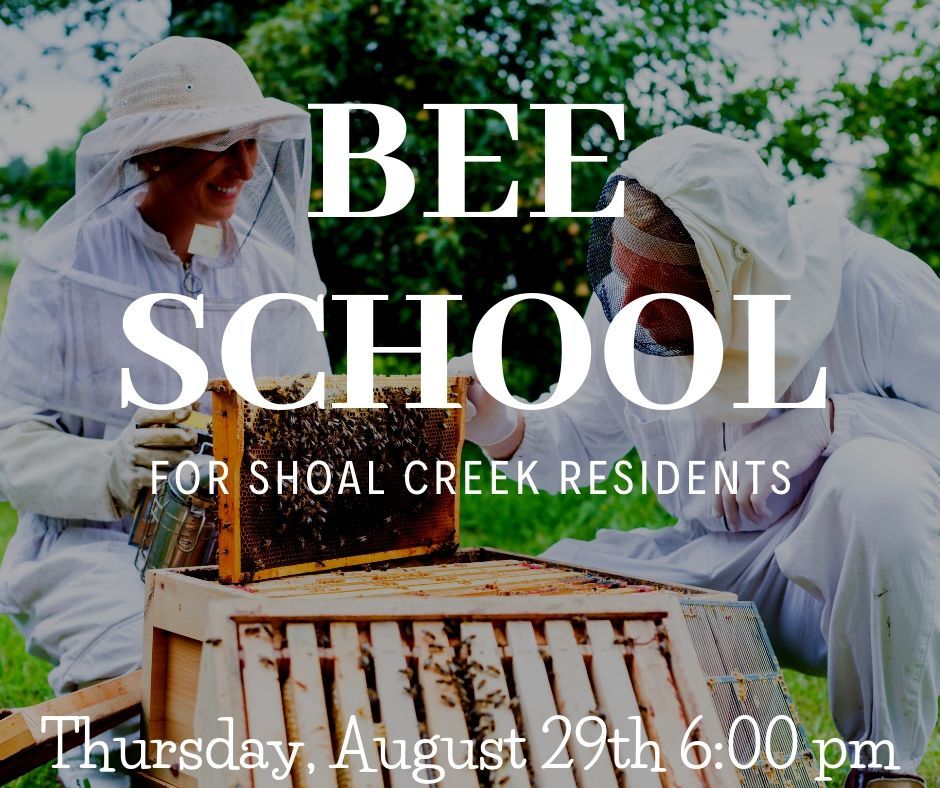 Bee School for Shoal Creek Residents Chock Full of Honey Bee Knowledge, Novelty, and Nature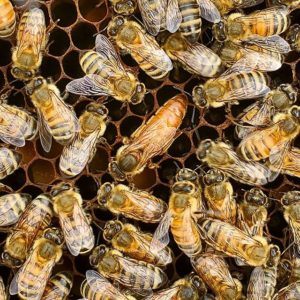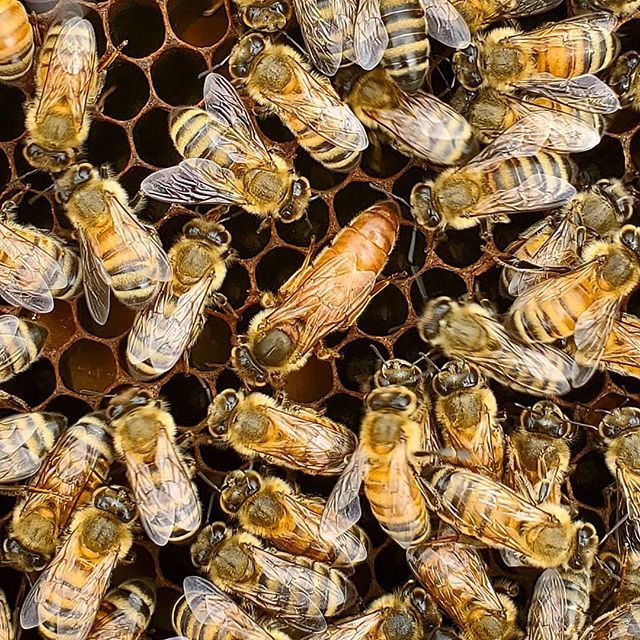 Honey bees are among some of the most perfect creatures on the earth – and Shoal Creek has our very own hive! Now, aren't honey bees those unwanted pests you're always swatting away at baseball games and picnics?
The truth is, you'll never see honey bees at any of those places (those are actually worker bees instead)! The actual life and habits of a honey bee will fascinate and stun you — from their unique talents to their work ethic and dramatic impact on our environment. 
I'll bet you didn't know these few factoids about these buzzy little miracles:
Honey bees contribute

nearly $20 billion

to the value of our U.S. crop production. They are responsible for helping thousands of different types of plants grow by pollination.

Propolis

,

or "bee glue," is used in many medicinal products as a natural antibiotic, anti-inflammatory, and an immune system booster.

50% of the population reports eating honey, and of those that don't eat honey directly, 15% of them consume honey in products. 
Can you say warm buttered biscuits with honey? Hot tea with honey? Toasted peanut butter & honey sandwiches? 
So who would have thought that such a tiny little creature could have such a major influence on our lives and our palates? 
Well, the folks at Birmingham-based Foxhound Bee Company did! 
Beekeeping at Shoal Creek and the ingenuity behind it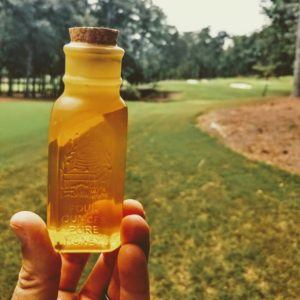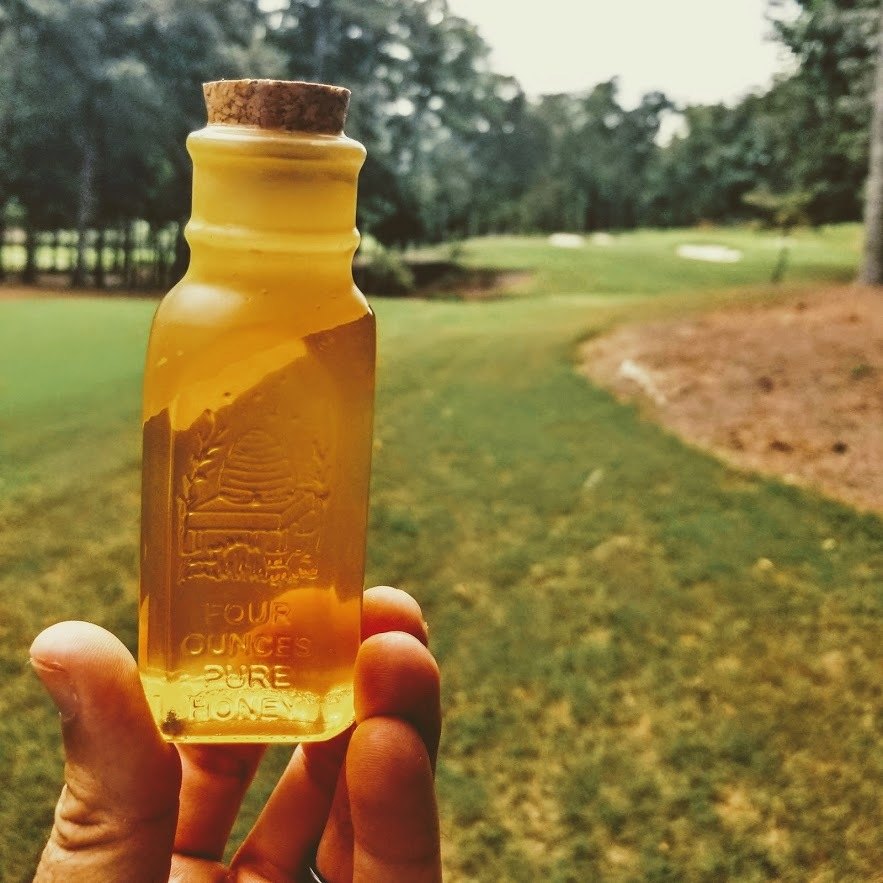 Adam and Stephanie Hickman are the husband-and-wife duo behind Foxhound Bee Company.
Their passion for bees and their importance to our food supply has sparked an interest in soon-to-be backyard beekeepers all over the United States. Adam and Stephanie have capitalized on the latest trend of backyard beekeepers by selling beekeeping tools, conducting classes (aptly named Bee School), and providing services, such as beehive mentoring and "Host-A-Hives," or fully-managed beehive rentals.  
"Host-A-Hives" give the average person or organization the thrill and benefit of keeping honey bees without the time and energy of doing it themselves.  
As many of you know, we have beehives here at Shoal Creek out amidst the nature of our area. We are so lucky to have the charming Adam and Stephanie managing our hives for us. If not for them, we might not be able to share the delicious honey each year with our residents for Christmas!! Adam and Stephanie truly believe in educating the public about how great honey bees are.  They enjoy teaching and often find themselves sharing their knowledge about bees and beekeeping whenever they can.
Details about Shoal Creek Property's very own Bee School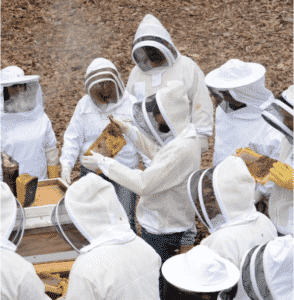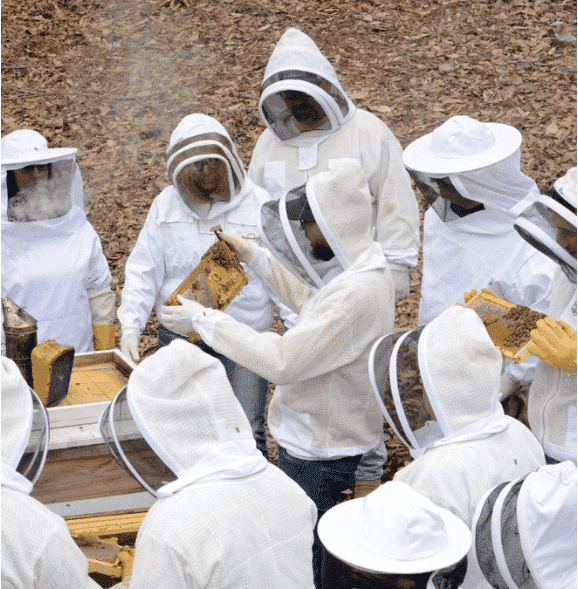 So, to recap, here are the details about the exciting Bee School event at Shoal Creek:
WHO:  Shoal Creek Residents
WHAT:  Bee School, presented by the Foxhound Bee Company, is offering a 1-1/2 hour hive tour and introduction to honey bees. This experience is perfect for the person who wants to get an up-close look at bees.
WHEN:  Thursday, August 29th at 6:00 pm 
WHERE: Right here on the Shoal Creek property 
HOW: For more information on the Shoal Creek Bee School and to register, CLICK HERE. Resident use discount code: CARNOUSTIE
*If capacity is reached at the onsite class at Shoal Creek, additional dates may be offered. The registration is first-come, first-served.
We hope to see you there – and don't "bee" late or you'll miss all the fun!
Shoal Creek – Get Away, Every Day
Shoal Creek is a premier, idyllic community set around an equally premier golf course, host of the U.S. Women's Open Championship in 2018. Our vibrant and diverse community of residents enjoy a peaceful, secure setting in nature with all the modern luxuries we have to offer. Come explore Shoal Creek. It's full of possibilities. 205-991-4653 or contact us here.